Tomb of Seth
2-flare slope creep into sphinx's mouth. Saves about 3 minutes.
Sacred Lake I
Drop from 2 crawlspaces with drop-catch trick. Might save a few seconds, but each uses an extra flare.
Temple of Karnak II
2 drops from a crawlspace.
Tomb of Semerkhet
Earlier ALT to end-of-level:
http://www.youtube.com/watch?v=kCGBPig8l2E
Yes, the video's half-speed. Might save 20 or 25 seconds.
Coastal Ruins I
1 drop from crawlspace, but the angle is bad.
Lost Library
1 drop from crawlspace.
Cleopatra's Palaces
After the monkeyswing in Cleopatra's Palaces, jump to the right and catch the edge of the short walkway. This skips the trigger square for one of the golden birds.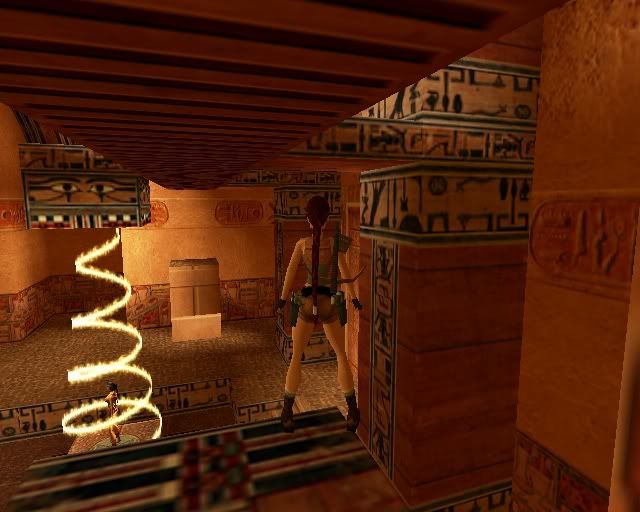 Again at Cleo's Place, trap skeletons on stairs. Make a skeleton follow you onto a staircase and go back past him. He will turn to follow you and become stuck. This is handy if you're low on ammo, but shooting him is usually faster.
Trenches
Shoot the Red Light from street level with an explosive arrow or grenade.
Citadel
1 drop from crawlspace.
Underneath the Sphinx
Dive bug + flare-wall bug to skip a monkeyswing. See xRikux89's explanation 2 posts down.
Menkaure's Pyramid & Khufu's Queens Pyramids

Slope creep bugs allow you to avoid more enemies and use less explosive ammo, so perhaps skipping the Guard's Keys and using ALT above the exit doors of both levels can now save some time. Optimistically, you might save 15 seconds, but it's much harder than the normal method.
In Menk, kill the first scorpion and slope-creep to the the side of the building with the guard in peril (start the bug with the corner to Lara's right; it works easily). Then jump to the area in front of the building, and do the normal exit traverse; no beetles or scorpions appear. Climb the pyramid normally; you can avoid some beetle triggers or kill them, whichever's faster. Then ALT above the exit door.
At the start of KQP, to Lara's right a carefully-aimed slope creep puts her on the hill facing the bunkers, without spawning any soldiers or scorpions.
Continue as usual, but again skip triggers or kill the one scorpion and the beetles so you can ALT at the exit doors.
More details are here and the next few pages:
http://tombrunner.createforum.net/viewt ... &start=212
Temple of Horus II
1 drop from crawlspace.